Source: Guide Auto Web
Best-selling SUV in Canada for many years, the Ford Escape was aging and the number of competitors in its segment has grown substantially. It was time for the American manufacturer to give the Escape a major redesign.
The 2020 model year will bring many changes to the popular compact SUV, and this new generation will go on sale this fall. Here are five things to know about the 2020 Ford Escape.
Transformative Design
Compared to the third-generation Escape, sold from 2013 to 2019, the new one is unrecognizable. Its creased sheetmetal has given way to a much rounder body, which is also more aerodynamic.
The Escape seems smaller, but the 2020 version actually benefits from a wheelbase stretched by 20 millimetres, while its overall length and width without mirrors have grown by 62 and 44 millimetres, respectively.
More Refined and Quieter
Four trim levels will be available in Canada, including S, SE, SEL and Titanium. Ford claims to have reduced noise and vibrations by giving the vehicle an isolated rear sub-frame, improved door sealing and acoustic laminated side glass. In high-end trims, an active noise cancellation system has also been installed inside the cockpit.
In addition, the SUV went on a diet and lost about 100 kilograms. The lighter Escape gained in performance, agility and fuel economy.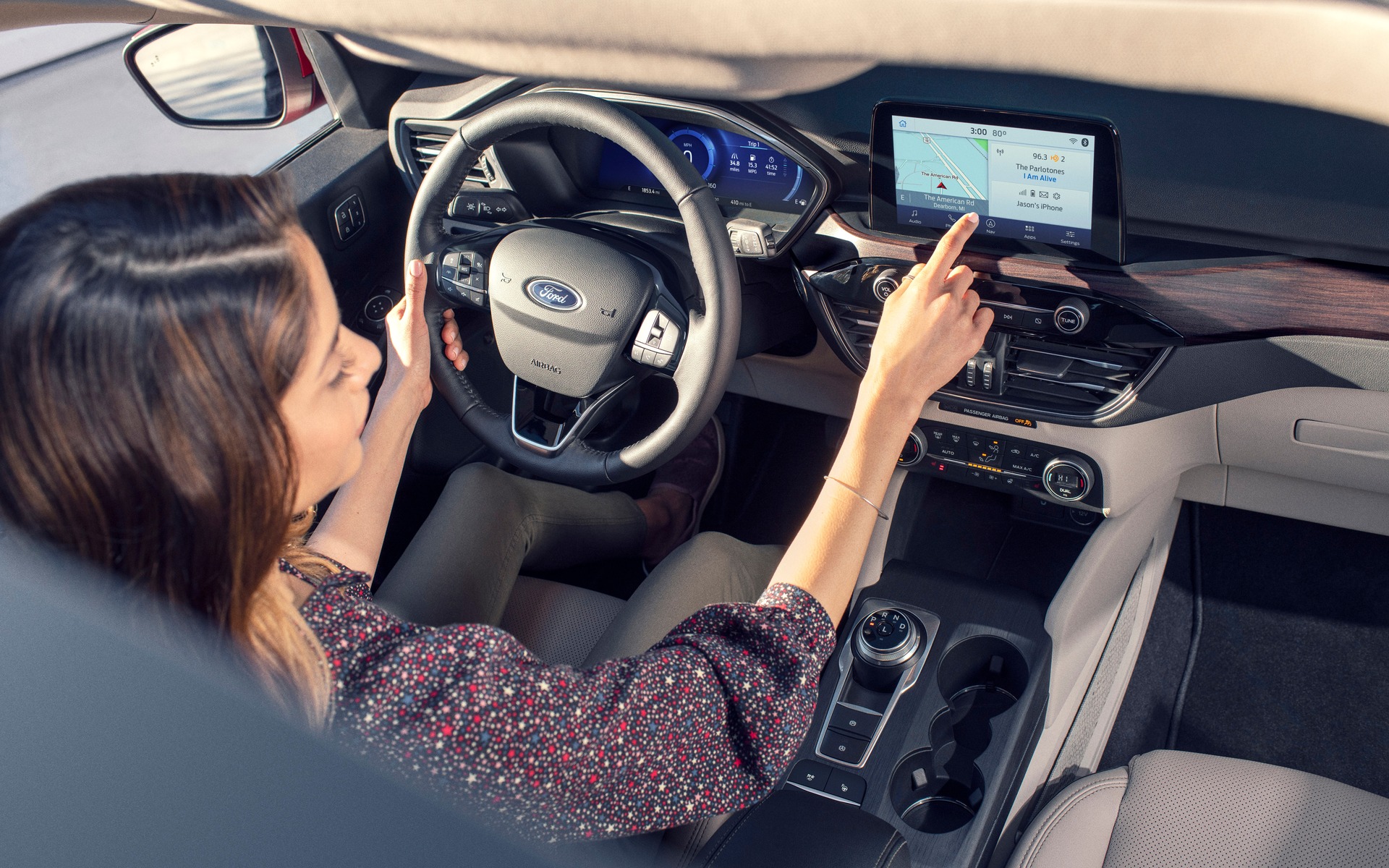 Three-cylinder Engine
As standard, the 2020 Ford Escape now relies on a turbocharged, 1.5-litre three-cylinder engine. This all-new powertrain develops about 180 horsepower and 177 pound-feet of torque, matched to an eight-speed automatic transmission. Under light driving conditions, this engine can also shut off one of its three cylinders in order to save fuel.
Optional in the SEL and Titanium variants, the Escape still relies on a turbocharged, 2.0-litre four-cylinder engine that produces some 250 horsepower and 275 pound-feet of torque. In addition, the 1.5L and 2.0L powertrains can be connected to an all-wheel drivetrain.
Hybrid and Plug-in Hybrid
A hybrid system is making a comeback in the Escape. It consists of an Atkinson-cycle, 2.5-litre four-cylinder engine, a motor-generator and a continuously variable automatic transmission. Producing about 198 horsepower, the hybrid version can be chosen in front-wheel- and all-wheel-drive configurations.
The plug-in hybrid version, offered with front-wheel drive, boasts about 209 horsepower as well as a 14.4-kWh battery pack that can be fully recharged in 10-11 hours on a domestic power outlet, or in 3.5 hours on level-2 charger. Fully electric range is estimated at 48 kilometres.
More Enjoyable Environment
The 2020 Ford Escape benefits from a greater adjustment of its telescopic steering column and, optionally, head-up display and a fully digital, 12.3-inch driver instrument panel. The SYNC 3 infotainment system is as user-friendly as ever, and a 10-speaker B&O stereo is available too. In addition, every Escape includes the company's Ford Co-Pilot360 suite of advanced safety features.